Haruka Amami Produce Details. Be warned there will be spoilers.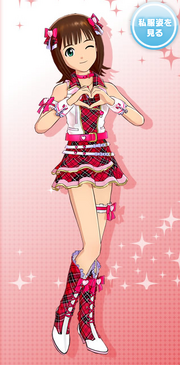 Idol Introduction
CV: Eriko Nakamura
Age: 17
Height: 158cm
Weight: 46kg
Birthday: April 3rd
Blood Type: O
Three Sizes: 83-56-82
Hobbies: Baking cakes, Karaoke, Long phone calls
Storyline
"I'll keep going, aiming for the world!"
Having the objective of becoming a top idol, Haruka is still unclear on specifically what kind of idol she wants to become. While taking on various jobs, accepting Producer's advice, facing herself, and remembering her starting point, she is searching for what idol image she wants to have...
DLC Storyline
Every day Haruka is busy as a top idol. Soon, the Producer says to her, "Make your own song with your own hands!" In hurry to get Haruka on track, the recording was finished, but...
Initial Stats & Skills
| Dance | Visual | Vocal |
| --- | --- | --- |
| 16 | 18 | 22 |
Events
These can happen before and after jobs.
| Situation | Choice | Time of Day | Notes | Key Words |
| --- | --- | --- | --- | --- |
| Voice Only | 春香 | | | Listen to the voice before the choice to know who is speaking |
| Vending Machine | 紅茶 | | | Look for 春香 in the text |
| Missed the last train | タクシー | | | 終電 (shuuden, last train) |
| Jogging with Yayoi & Makoto | 電車に乗る時に座席に座らない | Morning | Affection up for all three | |
| Christmas Present from Haruka | none? | | Receive プレゼント・レターセット | |
| Late Train | None | Morning | | |
| Taking shelter from the rain | None | Morning | | |
| Meeting on the street with Yukiho | None | After Work | Affection up for Yukiho | |
| At the supermarket with Yayoi | None | Night | Affection up for Yayoi | |
| | | | | |
Contact
(ふれあい)
The key words column includes Japanese words that may help in determining which contact event you have before a choice occurs. They are written in Japanese, with the romanization (hepburn) and the meaning in paranthesis afterwards.
Situation
Choice
Notes
Key Words
Making Food
[TOUCH] Center of Chest

料理 (ryouri, food)

作る (tsukuru, to make)

What to train?
[TOUCH] Stomach
What area has gotten fat?
[TOUCH] Chest
太る、太って (futoru/futotte, to be fat)
Practicing autograph
全体を見て書く

サイン (sain, autograph)

練習 (renshuu, [to] practice)

Picking out clothes with Miki
セーラーカラーのマリンワンピース
Affection up for Miki
Rumored Café Restaraunt
テイクアウト

カフェ (kafe, café)

レストラン (resutoran, restaurant)

During Lesson
シュークリームだ
Cake Shop
テイクアウト
ケーキ屋 (keeki-ya, cake shop)
Reward
ハンドミクサー
Imitation
響 *
ものまね (monomane, imitation)
Present
ドット柄のリボン
Practicing singing in the park
None
CD Shop
None
Putting shoes on wrong
None
Poem
None
Ritsuko teaching her how to use a computer
None

Affection up for Ritsuko

Entreaty at shrine
None
Karaoke with Miki and Chihaya
None
Affection up for Miki and Chihaya
*The Imitation contact may not be constant. Pay attention to who she is imitating to know for certain which answer to choose.
Promotions
| Promo Name | Rank | Cost | Fans | Money Earned | EXP | Notes |
| --- | --- | --- | --- | --- | --- | --- |
| 春香のラジオのお仕事 | E | 0 | 90 | 270 | 130 | |
| 春香のCDのお仕事 | E | 250 | 450 | 50 | 180 | |
| 春香の通販番組のお仕事 | D | 0 | 200 | 600 | 290 | |
| 春香のミズギのお仕事 | D | 560 | 990 | 110 | 420 | |
| | | | | | | |