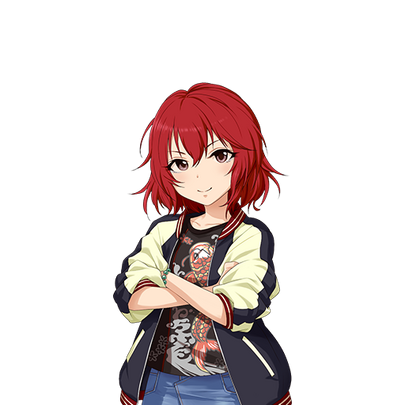 "I'm really only an idol to mess around. It's nothing special. My dad keeps telling me though, with that stupid face of his. Don't get me wrong here, I'm not at all eager about this, alright Producer!"
Hey! I'm Glitter Spring(16). I'm your resident cat lover and idol fanatic. Let's talk about im@s though. I've been into the iDOLM@STER since around late 2008 early 2009. I currently only own iDOLM@STER 2 and One For All. I decided to join the wiki to help out with random stuff. I'll mainly help out with song info such as recorded solos and group songs. Ritsuko Akizuki is my favorite 765, Konomi Baba (possibly tied with Julia) is my favorite ML, Natsuki Kimura is my favorite CG, and Jiro Yamashita is my favorite SM. Below are my other favorites!
Main World 765:
Ritsuko Akizuki Yukiho Hagiwara Makoto Kikuchi Miki Hoshii Ami Futami
Top 10 Million Live!:
Konomi Baba Julia Mizuki Makabe Reika Kitakami Megumi Tokoro Rio Momose Shiho Kitazawa Chizuru Nikaido Roco Handa Akane Nonohara
Top 10 "Cool" Cinderella Girls:
Syuko Shiomi Ryo Matsunaga Kanade Hayami Asuka Ninomiya Chinatsu Aikawa Haruna Kamijo Manami Kiba Mizuki Kawashima Hina Araki Reiko Takahashi
Top 10 "Cute" Cinderella Girls:
Shiki Ichinose Rina Fujimoto Yuu Ohta Sachiko Koshimizu Anzu Futaba Frederica Miyamoto Shinobu Kudo Hiromi Seki Miku Maekawa Nana Abe
Top 10 "Passion" Cinderella Girls:
Natsuki Kimura Takumi Mukai Yui Ohtsuki Tomoe Murakami Airi Totoki Syoko Hoshi Nina Ichihara Ema Senzaki Suzuho Ueda Mika Jougasaki
SideM:
Jiro Yamashita Ryu Kimura Shiki Iseya Genbu Kurono
Community content is available under
CC-BY-SA
unless otherwise noted.